Model : AW-UK1150HM(SG)
Washing Course = 8
Soft closing lid
Capacity (Kg) 10.5
Washing Spin (Kg) 10.5
Net Weight (Kg) 41
Motor Type = Inverter/DDM
Product Dimensions (W x D x H) (mm)596 x 580 x 968
Toshiba Top Load Washer 14kg AWDG1500
Capacity : 14kg
Auto Restart : Yes (with memory function)
Water Level Setting : 10
DD Inverter
Quiet Wash , Soak Available
Glass Touch Panel
Clean Glass Lid Design , High-Strength Tempered Glass
Soft-Close Tempered Glass , Duo Magic Filter
Stainless Steel Tub with S-Pulsator
Product Dimenison (L x W x H) (mm) : 660 x 675 x 1060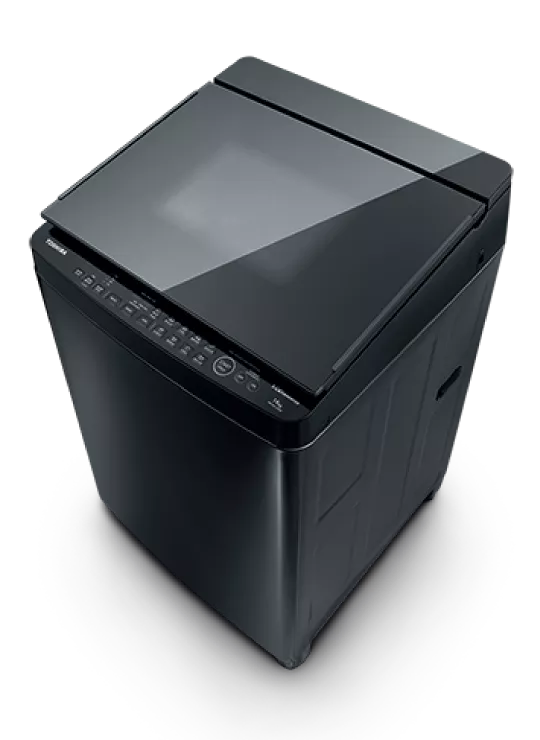 MAIN Net wash capacity (kg)14 Net Spin Capacity (kg)14 Weight (kg)53 ColorBlack Warranty2 years General Warranty, 3 years Control Panel Warranty, 13 years Motor Warranty InverterYes Water Consumption (Liters)190 DIMENSION Width685 Depth710 Height1061 POWER SUPPLY Voltage (V)230-240 Frequency (Hz)50 - Input Power (Watt) Wash390 Spin140 WATER LEVEL (LITERS) Low Level25 High Level100 REVOLUTION (rpm) Wash70-150 (Variable) Spin700 WASHER Duo-Active RollerYes S-DD InverterYes Mega Power WashYes Mega Power PulsatorYes Water Flow Power3 level (Gentle / Middle / Strong) Star Crystal DrumYes Hydro Twin Power WashYes Transparent Glass LidYes SPIN Super Spin Dry30 / 60 / 90 min SAFETY & FUNCTIONS Pre-Set TimerYes Resume FunctionYes Zero Standby ElectricityYes Lid Lock and Child ProofYes Auto Tub DryYes WASHING COURSES - STANDARD RegularYes SpeedYes SoakYes DelicateYes BlanketYes Heavy WashYes WASHING COURSES - SPECIAL Tub CleanYes Fragrance CourseYes Button Function Performance * Specification are subjected to change without prior notice. *Product size, product weight, and related specifications are theoretical values only. Actual measurements between individual products may vary. All specifications are subject to the actual product.